Who lives here?
Who lives here?
admin
Mon, 02/27/2012 - 16:03
Adrienne, Olend, Sasha, & Ari
Adrienne, Olend, Sasha, & Ari
catya
Tue, 02/08/2022 - 09:00
Alison
Alison
dbang
Thu, 07/18/2013 - 10:09
Allison & Sara
Allison & Sara
catya
Tue, 02/08/2022 - 08:48
Betsy & Steve
Betsy & Steve
Steve Veno is a chemical engineer specializing in ultra pure water treatment design. He is sci-fi movie enthusiast and can quote scenes and characters from movies spanning decades. He enjoys outdoor activities, including kayaking and traveling. He has two daughters and a son, and four grandchildren.
---
Betsy Waters is a person of many interests and careers. Lately, she has been doing consulting and interim ministry with churches. She has been a school psychologist, a teacher of children and adults, from preschool into graduate school. She loves to travel, do water sports like kayaking and canoeing, play the piano and do puzzle computer games. Two current passions are photography and creative non-fiction writing. I wonder what tomorrow will bring? Betsy has three sons and five grandchildren, including Elijah who visits often.
dbang
Thu, 07/18/2013 - 10:02
Bob
Bob
I am a former software test engineer. I took an early retirement in Aug. 2007 and I'm still retired, but may go back to work.
I'm interested in railroads, science fiction, and photography.
I have been pursuing cohousing for 17 years. I have been pursuing it mainly because I want to live in a place that has a strong sense of community. I have had a really hard time achieving this in living arrangements other than cohousing.
Some other reasons why I'm attracted to cohousing are the better architectural design of the residences and being able to live in a multi-family residence where I look out on walking paths and green fields and not on parked cars.
I first heard of Mosaic Commons in 2004 and began seriously pursuing it in Jan. 2009. I moved here in Oct. 2009. So far things have been going very well.
admin
Tue, 02/28/2012 - 18:04
Bonnie & David
Bonnie & David
Bonnie: I've been interested in cohousing for the past 18 years. I met two of my dear friends through a cohousing group back in the early Nineties and now here I am, sharing the joys of life with my wonderful new friends here at Mosaic. It's a dream come true: connection, support, safety, privacy, spontaneous social gatherings, lots of interesting conversation, and (of course) great food. I'm here for the long haul and look forward to each day living in community.
I love what I do for work; I've been a licensed esthetician and makeup artist for the past 24 years, and I work part-time at Trader Joe's. My passions in life are talking with and helping people, and sharing ideas.
In my leisure time I enjoy being with my son Brett and all of my family and friends; kayaking, hiking, exploring new places, and being in nature; music, making and viewing art, watching movies, and playing board games and ping-pong; cooking and eating; dogs, dogs and more dogs; napping, learning, holistic health, spirituality, and peace and quiet.
I'm an INFP.
admin
Tue, 02/28/2012 - 18:09
Buzz & Noel
Buzz & Noel
Buzz I live in Mosaic Commons with my longtime partner Noel and our three cats Merry, Pippin, and Apshai. We've wanted to live in cohousing for years, and living here has been every bit as wonderful as we hoped that it would be!
I train nonprofits and NGO's in fundraising and board service. I'm a freelance writer, political activist, and fundraiser. My interests include science fiction and fantasy, gardening, feminism, film, books, wargames and board games, social and economic justice, and pottery.
Noel Bio coming soon!
admin
Tue, 02/28/2012 - 18:02
Cathy, Ed, Talula & Luka
Cathy, Ed, Talula & Luka
dbang
Thu, 07/18/2013 - 10:03
Catriona and Alex
Catriona and Alex
Catriona Hughes works as a research archeologist for the Institute for Aegean Prehistory. She graduated from Bryn Mawr College and grew up in Madison, New Jersey. A avid reader, her interests are: the SCA, Kung-Fu, Western martial arts, stained glass, sewing, beading, knitting, book binding, WoW, blogging, gardening, and tree-hugging.
Alex Hughes is still defining himself and is busily building neural pathways to express his personality. Hobbies: late night opera. Interests: power cords, spoons, and other people. He is very excited about co-housing.
dbang
Thu, 12/11/2014 - 15:53
Dave, Mariama & Aidan
Dave, Mariama & Aidan

Dave: a Professional Computer Geek. Before Mosaic I lived with Cat and my son Zach, in Natick. Cat "forced" me to go to the Cohousing Conference at Pioneer Valley in 1999 and I was hooked. My particular hobbies vary depending on the season and my mood. I do a lot of things, and being around other motivated folks really enables me to do the things I enjoy. Everything from doing general work (like building fences, mowing, painting, other woodworking), through supporting all the little projects the community has. For myself, I love playing guitar, bike-riding, skiing, sailing, and taking nice long hikes on our 65 acres of land. INTP.
Mariama's bio coming soon!
admin
Tue, 02/28/2012 - 17:44
Dennis, Lou, Elliott, Cedar, Leo & Malcolm
Dennis, Lou, Elliott, Cedar, Leo & Malcolm
dbang
Tue, 07/23/2013 - 14:17
Diana, John, Andy, Ian & Colton
Diana, John, Andy, Ian & Colton

Diana: I live with my husband John and our three sons: twins Andrew and Ian (born 2000 and currently attending Amherst and Vassar College respectively) and Colton (born 2002 and attending high school at Tahanto). I have an undergraduate degree in Computer Science and a Masters degree in social work, and I currently work as a trainer and curriculum developer at Cloudera. In my (ha ha!) free time, I enjoy reading (science fiction and mysteries), walking, movies (mostly chick flicks) and photography. I've known about cohousing for years, but I found out about Mosaic from Catya in 2000, and started getting involved in 2002. Almost a decade ago I did an exercise in which I envisioned my life-as-it-should-be and found that it centered around having children and living in community. I have the children; now I'm here in Mosaic realizing the rest of my vision. ENTJ.
---
John R.: I'm a freelance writer, marketing consultant, and sometime novelist. I live with Diana and our sons Andy, Ian and Colton. I've been in Mosaic since 2002. I enjoy reading, writing, cooking, messing with old cars, and making music. The thing I like best about living in Mosaic is having my kids grow up in a friendly, supportive neighborhood.
admin
Tue, 02/28/2012 - 17:53
Donna & Charlie
Donna & Charlie
catya
Tue, 02/08/2022 - 08:54
Edward
Edward
Edward: With both a B.A. in Political and Historical Studies/Theology and a M.Ed. in Adult Education (with an emphasis on the history of education in Boston) from Curry College, I am a full-time historian at the Paul Revere House in Boston's North End, where I met my wife Karen in 1997. Born in Missouri, I have also lived in Kansas and New Jersey before I made Boston my home in 1981. Although my commute is now longer, I enjoy the extra time to read on the train. It is worth having such a beautiful home to return to each day and enjoy with my family. My favorite pastimes are reading, photography, visiting museums, working on puzzles in the Common House, hiking on paths near local conservation lands, attending plays and movies (especially "indies"), and home-schooling my daughter Cosette. Since 1999, Karen and I have been attending the annual Shakespeare on the Common productions, offered each summer in Boston by the Commonwealth Shakespeare Company, and began bringing our daughter when she was a baby. On the Myers-Briggs, I am an INTJ.
catya
Mon, 02/14/2022 - 09:04
Jana and Luka
Jana and Luka
dbang
Thu, 07/18/2013 - 09:58
John & Judy
John & Judy
Judy: I am a Clinical Psychologist and have had a private practice at the D'arcy Wellness Clinic in Natick. I also teach part-time at Boston College. I have been married to John for 40 years and we have two children. Alanna is an interior designer and does set design for film, and Shawn is an actor and script writer. They both live in Los Feliz, Los Angeles. When we visit them we stay in the guest apartment of LA Ecovillage cohousing. I currently am expanding my creativity with pottery, and have a small studio in the basement of our home. I also am a Hospital Volunteer Clown and am part of a troupe of wonderful creative people. I am strongly drawn to Buddhist teachings and practice, and I love the written word and read whenever I have a free minute. John and I are runners and like to be physically active. We are currently learning Tai Chi in a nearby town. John and I, and our children, have traveled to the Tibetan part of India with one of our other cohousing friends to work at an orphanage there. It was extremely rewarding and wonderful. On the Myers-Briggs I am an INFJ, so I am prone to big-picture dreaming and get somewhat annoyed by detail. But I can still do it when I must! I have known about cohousing for a long time and have realized the importance of community both to learn about myself and to be of service. Growing older in a multigenerational environment, especially with children around, has been very enriching, and I expect that it will continue to be so.
---
John B.: I've been in New England for 32 years, and am originally from Kentucky. After four years in the military, I received my bachelor's from the University of Kentucky and then my grad degree from Northeastern in Rehab Administration. I spent several years in the non-profit sector working with state schools as well as community mental health organizations. I then moved into the business sector where I have been ever since, working for Fortune 500 companies, and until recently have had my own training/consulting business. Currently I have a job as Sales Program Manager with Cognos. Before Mosaic, I lived with my wife Judy in Natick, MA. Our children, Alanna and Shawn, are out of the household. I heard about cohousing from a couple of sources — first from Judy, then during our summer Family Week workshops at Omega Institute. My biggest hope for cohousing is that I can get involved in a multigenerational living experience. I don't want to spend my later years in life with only people my age. I want the richness of being involved with all ages, including children. The one thing everyone should know about me is that I'm very concrete and specific. My hobbies are exercise, genealogy research, and running (four marathons). I used to make jewelry and would like to get back to that sometime. ESTJ.
admin
Tue, 02/28/2012 - 17:51
Julie
Julie
catya
Tue, 02/08/2022 - 09:31
Kale, David & Reed
Kale, David & Reed
dbang
Thu, 07/18/2013 - 10:00
Karen & Silas
Karen & Silas
Karen (she/her): A Life Path Transformation Coach on the labyrinth path and a certified Labyrinth Walk Facilitator, Mosaic Commons has been my home since 2009, and I've home-schooled my son Silas since 2011.  I love walking labyrinths, music, reading, writing, gardening, sailing and camping.  My favorite things to do with my co-housing neighbors are gardening, playing games, chalk art, tie-dying, Zentangle and open mics.
---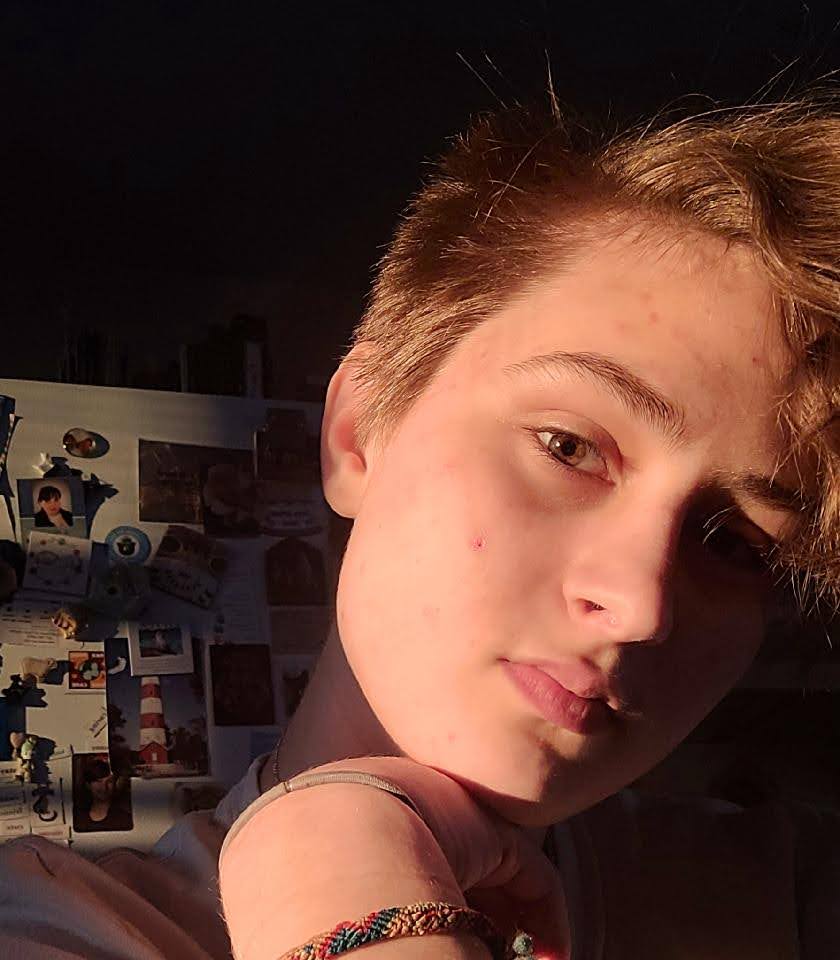 Silas (he/him): I love reading, writing, music, long walks on conservation land, camping in state forests, and my cat Skye. My favorite co-housing activity is hanging out with my friends at the Common House.
admin
Tue, 02/28/2012 - 18:03
Kay
Kay
catya
Tue, 02/08/2022 - 09:30
Liz & Ken
Liz & Ken
Liz: I have been part of Mosaic Commons since 2002 and moved in April of 2009. My primary goal in moving in was to eat at meals. Today I'm active on Facilitation, Process, and Community Support teams.
I am pastor of a couple of Churches and do consulting work and have written a book about Food programs called Five Loaves, Two Fish, Twelve Volunteers.
I love common meals, porching, quilting, and walks. With my husband Ken, I love to travel and to go to music events.
---

Ken: I grew up between the banks of the Yellowstone River and that long ribbon of metal called the Northern Pacific Railroad. Livingston, Montana is about an hour north on the entrance highway to Yellowstone Park and aside from the neighborhood bully it was a pretty nice place to grow up.
By day I work at Boston College as one of their "Technology Consultants." I provide direct third-level help-desk support for the Lynch School of Education. I enjoy working and teaching in that fun but occasionally traumatized arena that exists between the technological tools (like computers, software and PDAs) and a lot of really smart, highly educated folks who were hired to teach, do research and write rather than for their technical prowess.
At various times in my life I've managed to turn my hobbies into my job. I have a degree in political science and a masters in the ministry (I was a campus minister for a number of years). I paid for graduate school largely by working as the school photographer. After graduating I ended up in a college town that didn't need another minister so I became a biomedical and public relations photographer. Later, after making my way east, I was in Campus Ministry but to make financial ends meet I moonlighted in computer support after learning the technology as a hobby. Now I do the tech support full time and folks occasionally have said I'm almost "pastoral" in the way I help them. Yup.
I generally take a positive attitude in whatever I do. I'm a firm believer in what some management folks have labeled the FISH! Philosophy.
I've never turned drumming into a living and probably won't, but it is a passion. I love to drum and sing, and prefer to make music with others. I belonged to the Walkabout Clearwater Chorus from about 1993 through 1997. It's one of many music groups spawned by Pete Seeger and friends, and I've had the good fortune to have performed with Pete on many occasions. I'm a big fan of the Summer Acoustic Music Week (music camp for adults) put on every summer by WUMB — Boston's Folk Music Radio station.
Since moving to the Boston area I've played with a lot of different folks, but currently spend the majority of my musical passion with a group I helped create called New England Weather. NEW, as we abbreviate it, has a number of spin-off events, and one of my favorites is Mike Delaney's very well run "open mic" at Java Jo's in Jamaica Plain; it's across the street from the Forest Hills T stop, and happens every Thursday from 7 to 10 pm.
I found out about Mosaic Commons from my ex, Christie White, who had been dreaming about it for years. My biggest hope for cohousing is for the community. I'm a gregarious extrovert, so I'm the one in the family who's out meeting and greeting folks. I look forward to getting to know my neighbors better than just learning their names. Cohousing, among other things, enhances the likelihood that I'll know my neighbors, and hopefully at a deeper level than just being acquaintances. I've been with Mosaic Commons since April 2001.
Something useful folks might like to know about me? I'm an ENFP.
admin
Tue, 02/28/2012 - 17:52
Mary
Mary
Bio coming soon.


admin
Tue, 02/28/2012 - 18:03
Matt, Kim, Gabe & Aidan
Matt, Kim, Gabe & Aidan
Matt: I am trained as a marriage and family therapist and a life coach. I currently work for the Department of Youth Services Central Region as a Family Intervention Specialist. I have been looking for a form of intentional community since the mid 90s. I found out about cohousing in 2004 and have been looking for the right community since then. We are happy to have found it at Mosaic.
My hobbies include basketball, racquetball, card games, poker, Magic the Gathering, computer games, hiking, canoeing, kayaking, reading science fiction, spirituality and psychology books and much more. I have a decent sized science fiction library and I am happy to share my books with others. I love hanging out with people and spending time with my family. I am an ENFP and a 7 on the Enneagram.
---
Kim: I live with my partner Matt, college aged son Gabe, stepson Aidan, Millie the cat, and three silly ferrets. I was involved with the community from June of 2001 until 2007. I had to leave for a few years and have returned since the pandemic.
I have mostly been a happy stay at home homeschooling mom and family administrator with odd jobs tucked into the crevices of my life for 20 plus years.I have an undergraduate and masters degree in performance.
I have been a caregiver for my mother for a number of years. My maternal family of origin has lived in Berlin for five generations.
My interests in the community include gardening, getting stuff done, and community involvement.
I also love creating art, cooking for and feeding people, playing in the water, organizing, walking, traveling, leadership, and grief support. I love kids! I am extrovert, and this fact will never be in question once you meet me:)
admin
Tue, 02/28/2012 - 18:07
Mike, Victoria, Julius, Soren, Viviana and Savanah
Mike, Victoria, Julius, Soren, Viviana and Savanah
The Gaisford family moved to Mosaic from California in 2012 so their children could grow up knowing their neighbors and surrounded by nature. Mike works on the business side of medical devices, and Victoria's career has been in religious education. Mike has enjoyed playing pick-up basketball with a group of men in Berlin and cooks common meals once a month. When the kids were younger, Victoria did lots of volunteering in the schools and enjoyed organizing art projects with the kids at Mosaic. Her favorite times at Mosaic have been the ultimate frisbee games on the field. Their four kids are now in middle school and up and regularly say, "I love where we live," when rounding the curves on the drive home. The Gaisfords belong to the church at the center of Berlin. Their dog, Artemis Scooby-Doo Gaisford, loves running through the forest every morning and greeting neighbors on the pathways.
dbang
Thu, 07/18/2013 - 10:03
Nancy
Nancy
admin
Tue, 02/28/2012 - 18:12
Owen, Rebecca & Leo
Owen, Rebecca & Leo
Bio and Pics Coming Soon!
admin
Tue, 02/28/2012 - 18:08
Perley, Sandy, Alexei & Mischka
Perley, Sandy, Alexei & Mischka
Sandy: I'm Sandy Altucher, and before Mosaic I lived in Lancaster, Massachusetts, in a house that was way too big for us. Living with me are my husband Perley, my two sons Alexei, born in 1996, and Mischka, born in 2000, and four cats. I was a software engineer for sixteen years, but left the corporate world in 1998 to take care of my mother, and have not looked back. I now work part-time at the Lancaster library.
I first heard of cohousing in 1992, when some friends were trying to start a group in Rhode Island, but I wasn't ready to take the plunge until 2006, when I found out about Mosaic Commons. My hope for cohousing is for my kids to have a pack to hang out with. Ditto for me. I enjoy cooking, reading, playing Scrabble (and many other games), playing piano, and having interesting conversations. My Myers-Briggs type is INFP.
Perley: Hello, I'm Perley B. C. Mears Jr. (yeah a mouthful), and I live with my wife Sandy in Mosaic. I've got a couple of great boys, see above for stats, and a wide variety of interests. I shifted companies when we moved, but I worked for Sun Microsystems for 10+ years, and spent 25+ years in the computer industry. Among my interests are computers, gadgets, dancing, singing, origami, string figures, roller skating, aerobics, basketball, ...
I first heard about cohousing from my wife Sandy when I met her, but wasn't ready to give up what seemed like a lot of control. I've since matured, yay, and gotten a better understanding of the cooperative process in cohousing. I'm also very ready for more community, and I think it will be great for Alexei and Mischka. When we moved into our recently sold home, I swore never to move again, but this time I'm in a community I look forward to growing old in, not just a home to live at. My Myers-Briggs type is somewhere between ENFJ and INTJ.
---
Alexei and Mischka: Coming soon!
admin
Tue, 02/28/2012 - 18:00
Rachel, Jesse, Rose, Howard & Iris
Rachel, Jesse, Rose, Howard & Iris
admin
Tue, 02/28/2012 - 18:11
Richard
Richard
dbang
Tue, 07/23/2013 - 14:24
Ross & Scott
Ross & Scott

Ross: I live with my husband Scott, Eris (cat) and Jake (dog). I am a software developer/analyst for a company based out of Portland, ME. I've been doing software and database development for more than 15 years and I enjoy it immensely. I currently work from home and I like having so many friends nearby. I like to read (fantasy, science fiction, romance), hike, play cards and other tabletop games, ride my motorcycle and relax.
Before moving to Mosaic I felt very trapped. I worked from home and never really saw another soul other than my housemates. Now I have great neighbors to interact with and a wonderful environment to enjoy. I've been involved with Mosaic since October 2009.
Jake: Hi, I'm Jake. I like to walk. I live with my owners Ross & Scott as well as two other annoying creatures that don't like playing with me enough. I like to walk, run, walk in the woods, eat, play with my ball and walk. Oh! I really like walking. In my free time I take long naps on the floor or on the couch. I like Mosaic because there are lots of people here that pet me. I like to walk.
Scott:: Bio coming soon!


admin
Tue, 02/28/2012 - 18:05
Sam & Sarah
Sam & Sarah
catya
Tue, 02/08/2022 - 09:28
San, Kai, Emma & Pascal
San, Kai, Emma & Pascal
San: I'm a trained psycholinguist but did not have a strong interest in teaching, so I left academia for the software world, where I now do analytical quality assurance. Before Mosaic, I lived with Kai, Emma and Pascal, and two cats in Cambridge; I liked being able to walk to work, the library, and stores, but I disliked not knowing my neighbors well and having a tiny garden.
I became interested in community during college — I went to two fairly small schools, Simon's Rock (not at the same time as Cat) and Hampshire. I found out about cohousing while living in Amherst, MA, as Pioneer Valley Coho was forming.
My biggest hope for cohousing is to have an easier time creating a fulfilling social life for myself and my family members. I've been involved with Mosaic Commons since its pre-beginnings in the fall of 1999. Hobby-wise, I like to garden, knit, cook, and play. I enjoy contra dancing, but rarely make it to dances these days. I love to sing, especially campfire songs and choral pieces, and once upon a time I played piano and guitar. I am hoping that now that we're moved in there will be more time for music in my life. My favorite element is water. PS: San is short for Susanne. Personality: INxx.
---

Kai: I'm a professor of linguistics at MIT. I am very much an introvert (INTP). I thrive teaching my field (formal semantics of natural language) and writing about my scientific research. Before Mosaic, I lived with my family — San, Emma, and Pascal — in Cambridge. I was born and raised in Germany. I came to the US for graduate school (UMass Amherst). I loved living in the city, but cohousing makes suburbia palatable. I found out about cohousing from my wife, San.
My biggest hope for cohousing is to build a great place to live. I've been involved since the inception of this group in January 2000. I have spent a lot of time and energy on making our dream a reality. It will happen. In my barely existent spare time, I like running (although I would prefer spending much of that time on playing soccer), doing quite a few more or less geeky things with my computers, watching sports (baseball, basketball, football), cooking, listening to an eclectic mix of music (Elvis Costello, Dusty Springfield, Thelonious Monk, Vinicius Moraes, Beach Boys, 10,000 Maniacs), reading (mystery novels, medieval logic, science in fields not related to my own).
---
Emma has been attending the Sudbury Valley School since the fall of 1999, when she turned 5. Some of her favorite pastimes are doing artwork, playing piano, surfing the web, swimming, and playing soccer. She loves to read and is a huge Harry Potter fan. Animals are important to her, especially dolphins, horses, and guinea pigs. She lives with cats and "they are really sweet". Her biggest hope for cohousing is being able to go out and play with other kids when she wants to. She has been involved with Mosaic Commons since the very first meeting (which was at her house). She would love for other kids her age to join the group.
Pascal loves to be fast, whether running around, riding his scooter or bicycle, or swimming. He also enjoys doing artwork and playing board games and card games. He started Sudbury Valley in the fall of 2003, just before his 5th birthday. Previously, he attended a fabulous cooperative preschool in Cambridge called Totlot. He likes to go to cohousing events to see friends, both young and old.
admin
Tue, 02/28/2012 - 17:40
Sophie, Rich & Colin
Sophie, Rich & Colin
Sophie: I had lived in Somerville for 20 years but had always wanted to live in the country with lots of friendly neighbors. My hobbies are walking in nature, wildlife-watching, singing, playing guitar, acting, clowning, Feng Shui, writing, reading, yoga, gardening, and playing with my cat. I first heard about cohousing in the former Sojourner newspaper, and I thought it sounded cool. Fast-forward to 15 years later; my husband and I decided to go on a cohousing bus tour and we discovered Mosaic. What draws me to Mosaic in particular is that it combines my love of nature, and desire to live adjoining conservation land, with my strong desire for community. Now both nature and community are right outside my door when I want them.
---
Rich K.: I live with my good wife, Sophie. Until making a career shift when we moved, I was a preschool teacher at a Jewish preschool in Cambridge; now I'm a professional woodworker and handyman. My hobbies are woodworking, yoga, model rocketry, bike-riding, and walking. I first heard about cohousing through a co-op house I lived in in Somerville. I also wandered by chance into the cohousing association's office in Watertown many years ago and learned more about it. More recently, on a fabulous bus tour with the national cohousing association, we hooked up with Mosaic folks. I'm drawn to Mosaic's consensus process, people's out-of-the-ordinary viewpoints on things, and the group's spirit of sharing and cooperation. My biggest hope is being able to join in the fun with children of all ages, right outside my door. We've been involved with Mosaic since May, 2005.
admin
Tue, 02/28/2012 - 18:00
Steph, Ryan, Drew & David/Alex
Steph, Ryan, Drew & David/Alex
Steph: I am a Social Work Case Manager at Network Health, where I enjoy working with clients directly to advocate for and help add services to their lives. In my free time I enjoy canoeing and kayaking, spending fun time with my twin boys, Drew and Alex, and I've recently renewed my love of my local library. I've known about cohousing for several years and gradually became more interested in it as we got closer to having children. Having grown up in a small community where children were valued and cared for by an entire neighborhood, I would like to make the same thing possible for my children. I've known about this cohousing group almost from its beginning, became involved in August 2000, and became an equity member in March 2001. INFJ.
---
Drew says "I like to play on my computer, shoot off model rockets (here in our field), and play with my friends. I am interested in all sorts of science, and history, especially pirates. I like to read non-fiction and fiction books about modern fantasy adventure.
It's really fun to play here all year around, I have lots of friends here. We have snowball fights in the winter, including Snow Wars. In the summer we play Search and Destroy, a mixture of Tag and Hide and Seek. Some people make leaf collections in the fall. We ride our bikes almost all the time. We have beavers and coyotes nearby, and closer we have peepers, bullfrogs, interesting earthworms, snakes, salamanders, woodpeckers, and hawks. It's convenient to have stores so close by."
David/Alex says "I am sometimes called Alex. I like playing computer games and playing outside. I like interesting things like shark teeth and swords. I like cartoons, animation, and action (like Pirates of the Caribbean and Journey to the Center of the Earth). I like explosions (like rocket launches), and science with experiments. I have asthma, and I also have nut allergies: peanuts, tree nuts, chick peas, and lentils.
I like living in cohousing. It's fun because you get to be around your friends and family. There's great outdoors, so I get to ride my bike whenever I want, because we have so much property that I can just bike around. It's a great place if your parents are divorced because they can move here and you can switch houses whenever you want."
admin
Tue, 02/28/2012 - 17:46
Tim, Ellen, MJ & Quinn
Tim, Ellen, MJ & Quinn
Tim: I'm a software engineer for Google in Cambridge. Before we moved into Mosaic, I lived with my spouse, Ellen, and two kids, Morgan and Quinn, very close to my parents in Carlisle. I have no other siblings or immediate family. My biggest hope for cohousing is a place for our kids to run around safely and where they feel part of a community that cares for their welfare. I like living as part of a larger community, and not feeling isolated from close friends.
I don't have time for hobbies, because I have children. But I see movies when I can, ride my bike as often as possible, and juggle. I found out about cohousing through Cat B., and have been involved with Mosaic since the summer of 2003. Personality: xNxP.
---
Ellen: I'm a childbirth educator and doula, writer and editor, secular homeschooler, partner, and activist. For a decade I lived with Tim, our kids Morgan and Quinn, and assorted pets in Carlisle; I enjoyed my big house in the woods, but missed the sense of community I once felt living near friends in the city. I'm really grateful to have a village around us now that Mosaic is a reality — and I love being able to plan and execute gourmet dinners for forty!
I'm now homeschooling my kids in addition to running multiple businesses and volunteering for Mosaic. In my exceedingly limited spare time, I read, sing, do genealogy research, and study languages. Like Tim, I've been involved with Mosaic since the summer of 2003. I invariably fall on two boundaries when I take the Myers-Briggs, so I'm an xNFx.
---
Quinn is ten years old, and lives with his mom and dad and brother Morgan. He recently left the Berlin Memorial School to homeschool with his brother, and enjoys reading Fox Trot comics, rock-climbing with Dad, swimming at Granny & Grandpa's house, and battling his neighbors with Nerf weapons.
---
Morgan is nearly fourteen and chose homeschooling in the fall of 2010. He enjoys hanging out with Mike and Andy, and gets to see them a lot when they get home from school!
He likes art, science, reading, swimming, and roleplaying games, but "what is really important about me is that I like art." Combining his interests in art and Mad Science, he plans to become an inventor.
admin
Tue, 02/28/2012 - 17:58