Our Vision & Values
Our Vision & Values
A Vibrant, Dynamic and Sharing Community
We aim to be an active and generous group, sharing our lives as we share both the little things -- a cup of sugar, a book, a hug -- and the big things -- our time, space, chores, and celebrations.
A Green, Lasting Community
In creating and recreating our community, we intend to make decisions that are practical and ecological now, and for the long-term. We hope to create a lasting community, with well designed and well cared-for buildings and grounds, and with good policy and interconnected members.
A Diverse and Inclusive Community
We strive to welcome, respect, and support diversity: for example, age, race, ethnicity, religion, sexual orientation, gender identity and expression, ability/disability, political persuasion, educational philosophy, family structure and financial status.
A Community of Many Voices
Our goal is to make decisions collaboratively, valuing each individual's viewpoint. We have agreed to make a good-faith effort to resolve conflicts as they arise. We endeavor to practice emotional intelligence and to be receptive to new ideas.
A Supportive and Healthy Community:
As individuals, we each conceptualize well-being differently. We want this to be a place where our various levels of health - however we conceive of it - are supported. We support each other in pursuing physical, mental, emotional, spiritual, and financial wellness, and practice appreciation and generosity whenever we can.
admin
Sat, 02/25/2012 - 22:06
Mosaic Green Building
Mosaic Green Building
Open Space! 28.5 acres of our land is preserved as conservation land. Clustered buildings leave most of our remaining 37 acres as open space, and clustered parking reduces our overall asphalt.
Shared resources & gardens: We share lawnmowers, snowblowers and other tools. We also share organic garden space!
Fewer car trips: Many of us carpool to work, or work at home in our Common House. Spend more social time in the community, and less driving around town.
Shared walls in our duplex and triplex buildings lead to higher efficiency and fewer building materials used.
LEED: We meet or surpass many LEED requirements for green building.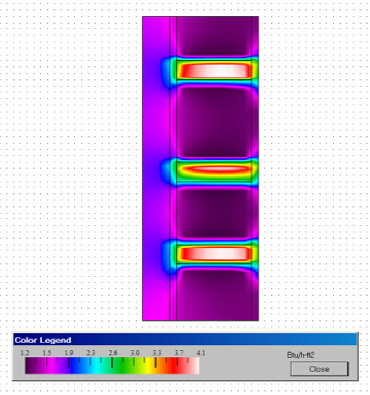 Tight envelope: Envelope is the most important thing in green building. Our tight envelope means our heating systems can be far smaller. The amount of heat needed to make our spaces livable is much smaller than a 'standard' constructed house. As such, quite a large percentage of the heat needed will actually be generated from other sources, such as a refrigerator, using the stove in the kitchen, or just normal activity of people in the house.
Triple Glazed Windows: .18 U value vinyl, insulated frame, triple glaze, krypton filled
Superinsulated Walls: 2x6 Construction + 2" Rigid insulation: 31.08 R value siding, on furring and paper 2" rigid zero-ozone depleting polyisocyanurate foam insulation (6.25/in) 1/2" sheathing 5.5 inch dense packed cellulose (3.3/in) (18% wood) 5/8" gyp. Bd.
Superinsulated Roofing: 47.41 R Value roofing 5/8" sheathing 14" dense pack cellulose (3.3 / in)(5% wood)
Future Solar: We've oriented the roofs in the community to give us enough south facing exposure to later add solar collectors to serve the whole community. We have plumbing taps in place to add active solar pre-heaters on the roofs and heat exchangers in the atticspaces at a later date.
Healthy Environment: Fresh air ventilation system and low-toxicity building materials
Some of our Green Products:
Windows: Paradigm, triple pane, warm-edge spacer, insulated frames
Exterior Basement Insulation: Roxul mineral wool
Energy Recovery Ventilation: Renewaire EV200 (78% recovery)
Air-Source Heat Pumps: Daikin FXAQ18MVJU (indoor units)
Kitchen Cabinets: Young FSC Solid Pine from NH http://www.youngfurnituremfg.com/
catya
Fri, 03/16/2012 - 08:05
Our Original Vision Statement
Our Original Vision Statement
Before we found land and started construction, we wrote a vision statement to guide us along the way and to help people hear what we were about.
In the meanwhile...

Mosaic Commons is a group of people working to build community; like a mosaic, we hope to create a group whose whole is greater than the sum of its parts. To do this, we support each other, respecting each person's differences, as well as our shared values. Each member has a responsibility to participate, and each person's voice will be heard. Our goals are friendship — both within and outside of the community — sharing — of energy, resources, ideas and lives — and learning together. Our aim is to develop a safe, dynamic and nurturing place for all of us, children and adults, to grow, both individually and as a group.
Our Vision is:
To create and live in a residential community (20-35 households) west of Boston based on the cohousing style of living including:
a balance of shared, common space and private homes,
a common house integral to community activities,
housing design and development that supports community living,
child-friendly environment with centralized play areas (inside and outside),
minimal impact of automobiles in and around our living and recreational areas,
consensus decision-making,
environmental consciousness,
social responsibility, and
financial responsibility.
To create housing that is affordable to individuals and families with a range of incomes.
To create a community that welcomes, respects, and supports diversity of age, race, religion, sexual orientation, ability and disability, political persuasion, educational philosophy, family structure and financial status.
Our intention is to support each other and embrace the need for extended family creating a healthy interdependence.
catya
Mon, 12/24/2012 - 09:32