Open Space! 28.5 acres of our land is preserved as conservation land. Clustered buildings leave most of our remaining 37 acres as open space, and clustered parking reduces our overall asphalt.
Shared resources & gardens: We share lawnmowers, snowblowers and other tools. We also share organic garden space!
Fewer car trips: Many of us carpool to work, or work at home in our Common House. Spend more social time in the community, and less driving around town.
Shared walls in our duplex and triplex buildings lead to higher efficiency and fewer building materials used.
LEED: We meet or surpass many LEED requirements for green building.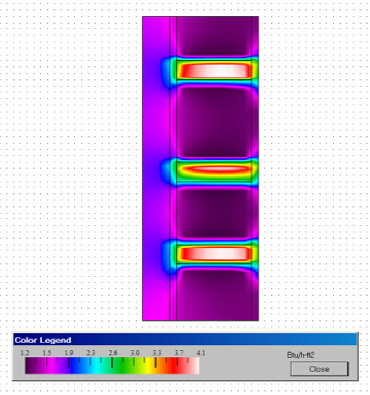 Tight envelope: Envelope is the most important thing in green building. Our tight envelope means our heating systems can be far smaller. The amount of heat needed to make our spaces livable is much smaller than a 'standard' constructed house. As such, quite a large percentage of the heat needed will actually be generated from other sources, such as a refrigerator, using the stove in the kitchen, or just normal activity of people in the house.
Triple Glazed Windows: .18 U value vinyl, insulated frame, triple glaze, krypton filled
Superinsulated Walls: 2x6 Construction + 2" Rigid insulation: 31.08 R value siding, on furring and paper 2" rigid zero-ozone depleting polyisocyanurate foam insulation (6.25/in) 1/2" sheathing 5.5 inch dense packed cellulose (3.3/in) (18% wood) 5/8" gyp. Bd.
Superinsulated Roofing: 47.41 R Value roofing 5/8" sheathing 14" dense pack cellulose (3.3 / in)(5% wood)
Future Solar: We've oriented the roofs in the community to give us enough south facing exposure to later add solar collectors to serve the whole community. We have plumbing taps in place to add active solar pre-heaters on the roofs and heat exchangers in the atticspaces at a later date.
Healthy Environment: Fresh air ventilation system and low-toxicity building materials
Some of our Green Products:
Windows: Paradigm, triple pane, warm-edge spacer, insulated frames
Exterior Basement Insulation: Roxul mineral wool
Energy Recovery Ventilation: Renewaire EV200 (78% recovery)
Air-Source Heat Pumps: Daikin FXAQ18MVJU (indoor units)
Kitchen Cabinets: Young FSC Solid Pine from NH http://www.youngfurnituremfg.com/